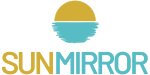 ABOUT US
SunMirror
SunMirror is a diversified exploration company with the largest tenement package in Finland (the most attractive mining jurisdiction in the EU) focusing on sustainable and traceable "commodities of the future" like copper, nickel, aluminium, lithium, cobalt, tin, rare earths, metal scrap and green iron ore -- vital to the success of newly-created industries focused on Renewable Energy, Electric Vehicles and high-performance Consumer Electronics exploiting AI, 5G and beyond.
GREEN METALS
What are
Green Metals

?

As governments around the world continue making their pledges to reach net zero emissions of greenhouse gases over the next few decades, there are certain metals which will continue to experience a huge demand as we transition to a green economy.

Lithium, Nickel and Cobalt are the green battery metals that are needed as we make the shift towards electric vehicles and renewable energy.
STRATEGIC ASSETS
Focus on Resources Powering the Future
The electric-vehicle (EV) revolution is ushering in a golden age for battery raw materials, best reflected by an increase in price for key battery commodities, like lithium and cobalt, over the past years. The market forecasts solid growth due to global requirement being 4 times the amount of metal produced today within a decade. In addition, the growing need for energy storage, e-bikes, electrification of tools, and countless other battery-intense applications is increasing the interest in these commodities to new levels.
Traceability is a key word in our projects and in our process. In the future being able to trace minerals all the way from mine, to process plant, refinery, chemicals factory, battery factory, to car assembly will be a competitive advantage.
Latitude 66
is a member of the Finnish government project "BATTRACE". This initiative is dedicated to the traceability of battery materials and the production processes used to extract metals from ores and refine them into high-quality raw materials for battery material manufacturers.
We have carefully built a portfolio of highly-strategic and sought-after "Green" minerals that will benefit from the ongoing revolution in EV's, renewable energy and much beyond. This portfolio, held by SunMirror's wholly owned subsidiary, SunMirror Luxemborg S.A., includes sites in various stages of development, in Australia and Northern Europe. Others to be announced soon.
INDUSTRY NEWS
INVESTOR RELATIONS
Empowering Results for Our Financial Partners
For stock information, financials and Ad-hoc press releases please visit our Investor Relations page.
CONTACT US
SunMirror AG
Steinhauserstrasse 74
6300 Zug
Switzerland
Tel:
+41 (0) 43 505 1400
Email: info@sunmirror.com